GITES - PISCINE LA BALANCELLE

Piscine Chauffée - Heated Swimming pool -
201 ANCIENNE VOIE AURELIA
13210 SAINT REMY DE PROVENCE
FRANCE
TEL : +33(0)6.22.05.02.05
SATNAV : N 43.78.182 E 4.84.604
-----------------------------------------------------
How to come to La Balancelle, 4 Gites in Provence - Swimming Pool ?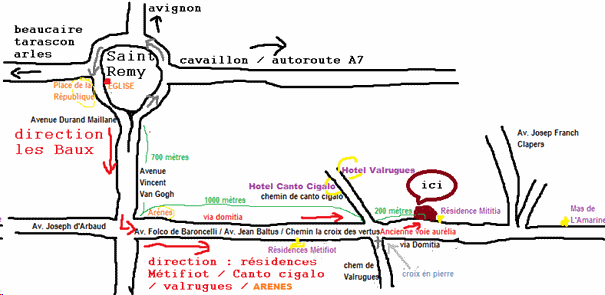 How to come ?
Go to the center of Saint Rémy de Provence
turn around the circular boulevards
when you pass the church, go ahead, direction : "LES BAUX DE PROVENCE"
drive 700 meters : turn on the left at the first crossroad, "avenue Falco de Baroncelli" (direction "Résidences Métifiot / Canto Cigalo / Valrugues" + "Arènes")
drive 1000 meters ("avenue Jean Baltus" then "chemin la croix des vertus")
"Résidences Métifiot" are on your right
At the top of the rise is a stone cross
Continue straight ahead on the "ancienne voie Aurélia" - drive 200 meters
A big field is on the right with the Alpilles mountain range / La Balancelle is opposite, to the left.
SATNAV : N 43.78.182 E 4.84.604

Gîtes et Chambres d'hôtes en Provence
Alpilles - Luberon - Camargue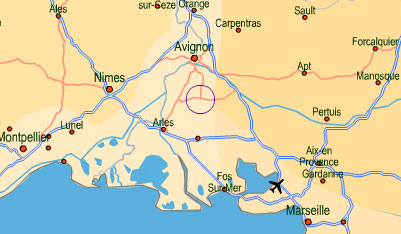 SAINT REMY DE PROVENCE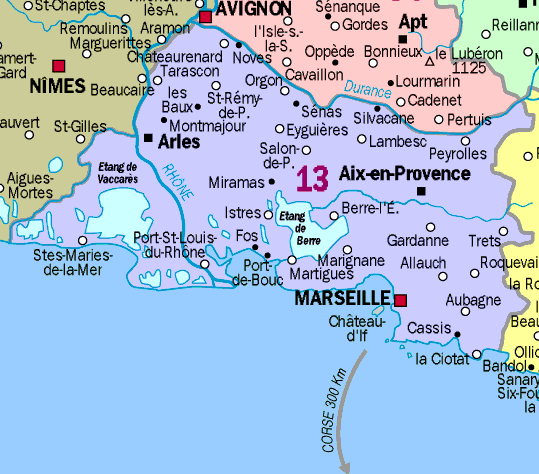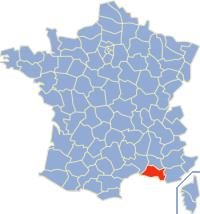 Location de Vacances Provence Alpilles Luberon Camargue gGites en Provence Gites et Chambres d' hotes en Provence Gites alpîlles Gites St Rémy de Provence Gites Alpîlles Gite 2 / 3 personnes Gite 2 / 3 personnes Gite 2 / 4 personnes Gite 6 personnes Les Tarifs Les Promotions Saint Rémy de Provence 21 jours en Provence... Avignon - Arles - Beaucaire Gordes - Roussillon - Isle sur la Sorgue La Provence Les Alpilles - Eygalières - Maussane - Les Baux Nimes Uzès - Pont du Gard Carpentras La Camargue - Les Saintes Maries de la Mer Ccoordonnées Situation Liens Version anglaise Photos Gite 2 / 3 persons Gite 2 / 3 persons Gite 2 / 4 persons Family Gite 6 persons Tariffs Special Offers M ap and address Photos
Gites St Rémy de Provence Location de Vacances Provence Alpilles Luberon Camargue Locations saisonnières